If you're looking to improve your painting skills, one of the most important things to learn is how to paint straight lines on canvas. This can be a challenge for beginners, but with a little practice, you'll be able to create clean and precise lines that will make your paintings look professional.
In this blog post, we will teach you how to paint straight lines on canvas using a few simple steps. Let's get started!
Tips On How To Paint A Straight Line On Canvas
Use An Angled Paint Brush
One of the best ways to paint a straight line is to use an angled brush. This is the right brush for this task. This will allow you to create clean lines without having to worry about your hand shaking or the paintbrush slipping.
To use an angled brush, start by dipping the tip of the flat brush into the paint. Then, holding the rigger brush at a 45-degree angle, begin painting the line from one end to the other.
If you need to, you can use a ruler or a level to help keep your hand steady as you paint. Keep in mind that straight lines can only be drawn using angled brushes; brushes with pointed round tips will leave a smudged appearance. Hence avoid pointed round brushes and use angled brushes instead.
Don't Put Too Much Paint on the Brush
Another common mistake that people make when they paint thin lines is putting too much paint on the brush. This will cause the paint to run and can make it difficult to control the line.
To avoid this, dip the tip of the brush into the paint and then tap off any excess before you begin painting. This will help you create a clean and precise line.
Paint In Small Sections
If you're having trouble painting a straight line in one continuous motion, try painting in small sections. This will help you to control the brush and prevent the paint from running.
To do this, start by painting a small section of the line. Then, stop and allow the paint to dry before painting the next section. Repeat this process until you've reached the end of the line.
With a little practice, you'll be painting straight lines like a pro! These tips will help you create clean and precise lines that will take your paintings to the next level.
Draw The Lines
If you're still struggling to paint straight lines, one of the best things you can do is to draw the lines first. This will give you a guide to follow and will make it much easier to paint a straight line. To do this, use a pencil or a thin paintbrush to draw the line on the canvas. You can use a ruler or yardstick to create a light pencil line instead of just eyeballing it.
The angled brush can be used to carefully paint along the line. Once the paint has dried, use an eraser to remove any pencil marks that may still be visible. Then, once you're happy with the placement of the line, you can begin painting over it.
Consider Making Use Of An Edger
An edger is yet another tool in your painting toolbox. It is a tool that helps you paint clean lines without having to use a brush.
To use an edger, just fill the square pads with paint and run the wheels of the edger over the painting surface. This will create a clean and precise line that is perfect for painting straight lines on canvas.
Keep The Edge Clean
As you paint, be sure to keep the edge of the brush clean. This will help you create a sharp point and precise line. To do this, dip the brush into the paint and then wipe off any excess on a paper towel. This will ensure that only a small amount of paint is on the brush, making it easier to control.
To avoid getting paint on the wheels when using an edger, be extra careful. As a result, you must exercise caution when putting the paint onto the edger to prevent dripping.
Make Use Of A Blue Painter's Tape Shield.
A paint shield is your best buddy when spraying it on the painting surface. While you must still cut in before spraying, a shield will prevent overspray on those sharp edges and from damaging your lines.
Three Proven Stages To Put A Shield Or Seal The Edges Of The Tape
Apply Acrylic Gel Medium
It's best to apply two coats of a clear fluid acrylic medium like GAC 500 to the edges of your masking tape before painting. Between applications, allow each layer to dry.
Use Your Finger To Smooth Out The Wet Tape
To prevent the tape from wrinkling when a wet paint was added, the next step is finger burnishing. Use your finger to smooth out the wet tape.
Run your finger along each wavy edge of the tape to flatten it out so that it doesn't sag. Let the tape dry once you're satisfied that it's flat against the canvas and the edge has a thin seal.
Once Done, Remove The Tape As Soon As You've Finished Painting
Remove the tape as soon as you've finished painting and before the paint has dried. There are times where a small strip of tape is left behind on the paint after the paint has dried, which is difficult to remove when using masking tape.
Create An Artist Tape Guide
Another helpful way to paint straight thin lines is to create an artist tape guide. This is especially useful if you're painting something like stripes or a border.
To create a tape guide, start by placing painter's tape along the straight edges of where you want your line to be. Then, using a brush or a roller, paint over the tape with your desired color. When you're finished, simply peel off the tape and you'll be left with a clean and straight line.
Let The Paint Dry
Allowing the paint to completely dry first attempting to take off the adhesive is a crucial tip when using painter's tape to produce straight lines.
With wet paint, the tape will not come off neatly, potentially pulling off sections of paint or leaving behind ragged edges. It is best to wait at least 24 hours to ensure that the paint is fully dry before removing the painter's tape.
When you're painting straight lines on canvas, it's important to caulk the tape. Otherwise, the paint can bleed under the tape and ruin your hard work.
Caulking the tape creates a barrier that prevents paint from seeping through. It's quick and easy to do – simply run a line of caulk along the straight edges of the tape before you start painting. Once you're finished, simply peel off the tape and enjoy your clean, straight lines.
Sale
Layer The Tape
Are you looking for a foolproof way to paint a straight line on canvas? If so, then you need to start layering pieces of tape on top of each other. This method may seem a bit tedious at first, but it will definitely pay off in the end. Here's how it works:
First, take a piece of painter's tape and attach it to one end of your canvas. Then, use a ruler or straight edge to line up the tape with the other end of the canvas. Now take another piece of tape and place it directly on top of the first piece. Continue this process until you have several layers of tape on top of each other.
Once you have a good stack of artist's tape like the Jialai blue tape, you can start painting your straight lines. Make sure to use a light acrylic paint touch so that you don't accidentally dislodge any of the pieces of the artist's tape. And that's it!
Layering pieces of masking tape or any artist's tape is definitely the best way to ensure straight lines when painting on canvas board.
Take Your Time
One of the most important things to remember when painting straight lines is to take your time. This is not a race, and there's no need to hurry. If you rush, you're more likely to make mistakes. So, relax and take your time as you paint. This will help you to create a beautiful and professional-looking painting.
Check Your Work Several Times
When painting, double-checking your work is maybe the most crucial step you can perform. If the line or the edge you were working on didn't turn out as crisp as you had anticipated, try it again!
It's not fun to go back and redo work, but painting wouldn't be complete without touch-ups. The difference between experts and amateurs is in the quality of their touch-ups.
How To Run A Customized YouTube Homepage: How To Make Straight Lines On Canvas
Your personalized content and ads must be influenced by things like audience recommendations. A customized YouTube homepage and tailored ads based must be created. It should be based on what the audience wants and needs with regards to proper way of using acrylic paint to make straight lines on canvas.
Check What The Audience Like
Through competitor analysis and site statistics measure audience engagement to understand what painting fanatics like to watch. Remember that ads are influenced by creativity, uniqueness, market research, and customer relationships. So look for an app that will help you measure the effectiveness of ads, audience engagement and site statistics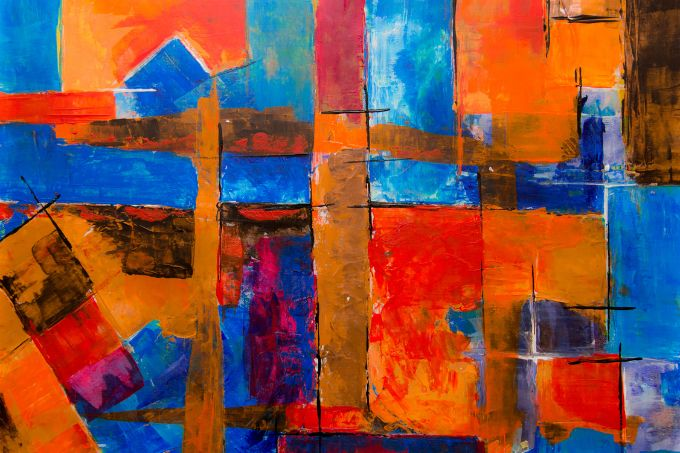 Examine Your Competitors and Related Channels
While watching other similar websites, analyze the content you're currently viewing. Look at the quality of those services your competitors offer. Create content that focuses on topics like tips on how to develop and improve new techniques on how to finish painting properly.
Take Advantage Of Site Statistics To Understand Your Audience
Based on general location, you understand what your target audiences in different locations search for on YouTube. Through past activity, you will be able to learn the proper way to deliver and measure the content you are creating. Take note of the best practices your competitors are using. From the videos you watch and the things you take note of, understand the results of your site statistics to learn how you can enhance the quality of your content.
Check Video Recommendations
The viewers wanted to see some of your customized content regarding tips and techniques in using acrylics in creating lines. Show personalized ads depending on the needs of your viewers.
Ads based on past experiences, including details about managing oil and acrylics in creating a perfect line on your canvas, tips and techniques on how to use acrylic and oil in painting, are what turn the viewers to keep on going back to your channel. Your content should be age-appropriate. If relevant ad serving is based on content that is what the viewers see on your channel, then engagement and statistics will increase.
Sale
How to Paint Straight Lines on Canvas: Protect Your Account from Spams and Hackers
To continue to YouTube you must protect your account from spams. Managing your privacy settings is not easy. To protect against spam fraud and abuse your YouTube channel must:

Track outages and protect the channel from hackers. Turn off your location services in the Google app and visit g.co privacytools.
Depending on your settings, use cookies and data to deliver and maintain google services with your viewers.
Check any changes in privacy tools at anytime